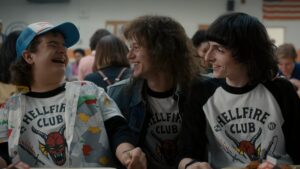 Take a trip down memory lane with us, will you? Come with us to a time more simple, more lax.  Lets call it the 80's.  You know what I'm talking about.  Big hair , bitchin cars, faire rings in the woods where young men of a certain age find analog porn that someone let back into the wild hoping that it would be reunited with its family.  Coincidentally the 80's is when Stranger Things takes place.  So there's that.
Get some cool merch @ http://GCL.THreadless.COm
Plugs and Amazing Folks
Check out the Twitch stream here!
Check out our man Seed over @ Poprika Reviews
Be sure to check out our Patreon
Check out this amazing charity! Operation Supply Drop Follow their twitter: @OperationSupplyDrop
Be sure to hit up the Wayward Ravens and check out their store be sure to use our discount code on their purchases! DC: neckbeard
Get yourselves some damn good coffee at Sip Of Hope : Geek Cast Live
Tweet the Geek Cast @GeekCastLive @GeekCastBass @[email protected]
Related Websites For all the in's and out's this on the Geek Cast Crew: Geek Cast Live Check out G2V Podcast, Dungeons and Randomness, and Movie Podcast Weekly because they're awesome. Duh.
Danger Johnson, Brandon Rust, Kelly Shuttlewood, Polinerds, Lada Bartova , & Jesse G Letourneau.
Shout Out To Our Patreon Supporters! Every penny brings us one step closer to destroying the moon.
Podcast: Play in new window | Download